History
This Year's Guest Speaker: Vice Admiral William "Dean" Lee
Vice Admiral William "Dean" Lee entered the U.S. Coast Guard in 1981 and retired in 2016 after serving nearly 36 years as a commissioned officer in various assignments along the Atlantic, Pacific and Gulf Coasts. He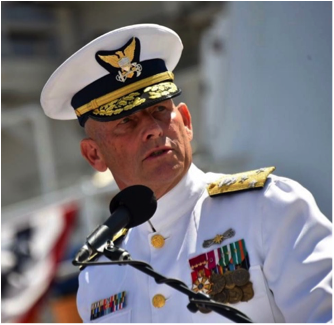 concluded his career as Commander, Atlantic Area, serving as the operational commander for a force of 21,000 active personnel conducting all U.S. Coast Guard missions from the Rocky Mountains to the Arabian Gulf, spanning across five Coast Guard Districts and 40 states. In addition to his duties at Atlantic Area, VADM Lee served as Commander, Defense Force East and provided Coast Guard mission support to the Department of Defense and Combatant Commanders. He also concurrently served as Director, DHS Joint Task Force East, responsible for the DHS Southern Border and Approaches Campaign Plan, including oversight of the joint interagency maritime Counter Narcotics and Alien Migration missions. During the period 2014 – 2016, elements of his Task Force interdicted 8,000 illegal migrants, arrested 340 smugglers, and seized nearly 100 metric tons of cocaine and other illicit drugs valued at $2.9 billion.
Vice Admiral Lee was promoted to Flag Rank in 2009 while serving as the Chief of Staff for the 7th Coast Guard District in Miami, FL. He then assumed Command of the Deployable Operations Group, a specialized group of 3,700 fast-responders who could deploy worldwide as needed for maritime tactical law enforcement and hazardous materials response. He was thereafter assigned as the Fifth District Commander in Portsmouth, VA, overseeing all CG operational forces within the Central Atlantic region between North Carolina and New Jersey. Before assuming command of Atlantic Area, Vice Admiral Lee served as the Deputy for Operations Policy and Capabilities at U.S. Coast Guard Headquarters in Washington, DC. In total, Vice Admiral Lee served fourteen tours of duty, commanding seven of them.
VADM Lee now serves on the Board of Directors for HELINET, a privately held aviation company in Van Nuys, California providing services to the film industry, medical transportation, news agencies, and private charters. He also serves as an Honorary Professor of Military Science at the Joint Forces Staff College in Norfolk, VA, and as an Adjunct at the University of Maryland School of Business. Admiral Lee is also a private consultant who specializes in Corporate Leadership Development. His most passionate and self-satisfying work is as a volunteer in the Heroin Addiction Recovery Program in the Chesterfield County VA jail, where he works with inmates who are victims of the current OPIOD epidemic. He often speaks publically in his concerted attempts to draw attention to this crucial issue, which indiscriminately effects millions of Americans from all walks of society.
Vice Admiral Lee is a native of Richmond, Virginia. He holds a Master's Degree from George Washington University, and a Bachelor of Arts degree from the University of South Alabama. He and his wife Mary have two grown children and two grandchildren.
Our speakers have included:
2012 Honorable Randy Forbes, United States Congressman
2011 Meadowlark Lemon, Former Player, Harlen Globetrotters
2010 Dr. M.G. "Pat" Robertson, Founder & Chairman, Christian Broadcasting Network
2009 Mr. Cal Thomas, Newspaper Columnist
2008 Mr. H. Wayne Huizenga, Jr. President, Huizenga Holdings, Inc.
2007 the Honorable Bob McDonnell, Virginia Attorney General
2006 The Honorable Hal J. Bonney, Jr., U.S. Bankruptcy Judge
2005 Mr. John D. Ashcroft, Former United States Attorney General
2004 Mr. S. Truett Cathy, Founder & Chairman, Chic-fil-A
2003 Mr. Paul S. Trible Jr., President, Christopher Newport University
2002 Dr. L. Gregory Jones, Duke Divinity School
2001 Reverend Jerry Falwell, Pastor, Thomas Road Baptist Church
2000 Mr. M. Wayne Huggins, Superintendent, Virginia State Police
1999 Brigadier General Richard F. Abel, U.S. Air Force (Retired)
1998 Mr. Mark L. Early, Virginia Attorney General
1997 Mr. Ben Kinchlow, Christian Broadcasting Network
1996 Johnny & June Carter-Cash, Country Music Legends
1995 Mr. Adolph Coors, IV
1994 ADM. Jerome "Jerry" Johnson, U.S. Navy (Retired)
1993 Dr. Tony Evans, President, Urban Alternative
1992 Mr. Cal Thomas, Newspaper Columnist
1991 Rev. Dick Woodward, Pastor, Williamsburg Community Chapel
1990 Mr. Roger Staubach, Professional Football Player
1989 Rev. Dick Woodward, Pastor, Williamsburg Community Chapel
1988 Dr. Anthony Campolo, Professor, Eastern College, Pennsylvania
1987 Mr. Tom Phillips, CEO, Raytheon
1986 Mr. Paul S. Trible Jr., U.S. Senate
1985 General John E. Vessey, Jr., U.S. Army (Retired)
---